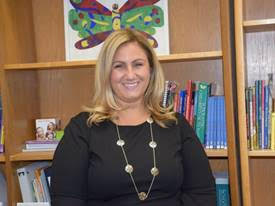 We caught up with Diana Weaver, the new Assistant Principal for the New Hyde Park, Garden City Park School District, serving as the first Assistant Principal position that the district has ever had. We're very excited for her success and grateful to call her an alumna of our CITE/ St. Rose School Building Leadership Certification program.
Tell us a bit about yourself
The 2019-2020 school year will mark my 12th year in education.  I graduated from St. John's University with a Bachelor of Arts degree in Elementary Education, as well as a Masters of Arts degree in Special Education/TESOL.  In 2016, I earned my School Building Leadership certificate from CITE through The College of Saint Rose.  I look forward to starting my School District Leadership classes through CITE/College of Saint Rose in September. Previously I worked in The Floral Park – Bellerose School District since 2007 where I held many positions, such as special education teacher, after-school program co-director, lead staff developer and drama club director.  As of July 8, 2019 I am the newly appointed Assistant Principal for the New Hyde Park- Garden City Park School District, serving as the first Assistant Principal position ever held in the district.

What made you decide to pursue school administration?
I decided to pursue my career in school building leadership after working with an amazing principal in my school district. I saw how their positive attitude and leadership transformed the whole dynamic of our school building. As I grew as a teacher and leader, I started to recognize leadership qualities in myself. My professors at CITE as well as my building administrators encouraged me to develop my leadership skills and pursue my goals.
What are looking forward to most in this new role?
As a newly appointed Assistant Principal, I am excited to pave the path for a new administration role in a district that has never had an AP previously. Most of all, I look forward to supporting the students, staff, and community of New Hyde Park-Garden City Park in this new role.
How was your experience taking Saint Rose courses?- How was your visit to campus? Was there a favorite teacher of yours?
I absolutely loved my CITE courses through The College of Saint Rose! I looked forward to going to class every weekend to engage in invigorating and thought-provoking activities and discussions with my classmates and professors. Every assignment that I completed in my coursework was practical and useful in my career to become a building administrator. The workshops offered through CITE throughly prepared me for my state certification exams, in which I did very well on. All of my professors through CITE taught me unique skills based on their personal experiences, I learned so many important lessons from each professor individually. They were all incredibly smart, engaging and kind. I often stayed in contact with my professors even after I finished my courses. Special thank you to Professor Willis Perry and Professor Ronni Reimel!
Do you feel that CITE/Saint Rose prepared you for your career goals?
CITE/St. Rose prepared me to the highest degree in helping me achieve my career goals in school building leadership. I was able to pass all of the state certification exams with ease. I also found the workshops offered extremely helpful and relevant. I often reviewed my class notes from my CITE coursework before administration interviews and felt fully prepared and confident in my abilities.
Where do you see yourself in the future?
Next month I will be starting my SDL CITE classes to earn my District Leader Certificate. In the future I see myself still loving my career path, whatever role I may hold, because I get to help shape the lives of children and what could be better than that!
Would you recommend CITE to a colleague?
I have recommended CITE to many of my colleagues. CITE is extremely affordable and you can earn your degree at a fast pace while receiving a high quality education. CITE is a well known program and many administrators I work with now also received their degree from CITE!
Learn more about the College of St. Rose SBL program through CITE here.
---
CITE is the Center for Integrated Training and Education. For over 25 years, CITE has provided convenient, affordable, practical courses for working professionals in and around NYC.
Programs include
TEACHERS: Early Childhood Master's, Professional Certification Master's, TESOL Master's, Special Education Courses, Non-Matriculated Grad Courses, Bilingual courses, DASA
COUNSELORS: School Counseling, Mental Health Counseling, Advanced Certificate in School or Mental Health Counseling
ADMINISTRATORS: SBL, SDL, Public Administration, Doctorate
Nearly 25% of NYC Schools Principals are graduates of a CITE program.
CITE PD offers CTLE-approved in-school professional development and parent workshops tailored to your school's needs and your vision. Info: citepd.com